Beginner's guide to e-mail marketing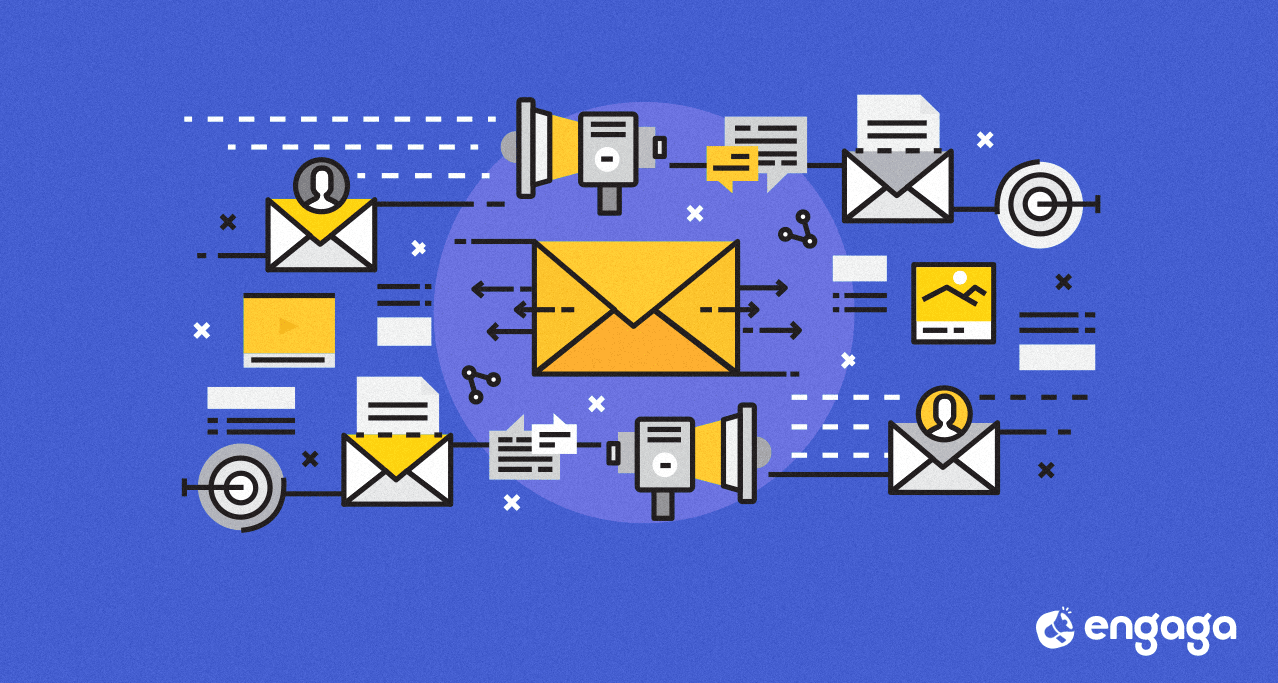 E-mail is one of the most effective ways for marketing products or services, and it allows some small businesses maintain 5-digit e-mail lists and make millions of dollars per year. On the other hand, the seemingly simple task of sending large number of recipients your message actually does require some serious knowledge, skills and experience to work out right.
Want to be successful at e-mail marketing? We have prepared a quick 10 minute beginner's guide to get you started.
Grow a quality list of e-mails
For e-mail marketing to work, you must first grow a quality list of e-mail addresses whose recipients are interested in what you have to offer and have given permission or expressed willingness to e-mail them.
You can build your list by collecting e-mails on your website using, for example, Engaga Spark e-mail opt-in forms, on your social media accounts, by asking your customers and in other ways as long as you have a clear permission to send emails to these addresses.
To learn more about growing your e-mail list, please read our comprehensive article How to grow your e-mail list.
Here is a short overview on building a successful e-mail list:
Be clear about what you are going to send and make it sound great
Send only content that your subscribers want to receive
Offer benefits and value for subscribing
Make your subscriber list an exclusive club
Make your visitors feel comfortable and safe with subscribing
Make it easy to subscribe on your website
Cast a wide net by inviting to subscribe your customers and social network visitors
Keep your list healthy and avoid questionable practices
Never send to people that did not subscribe
You can not simply buy or harvest a list of e-mails of persons who have not explicitly signed up and agreed to receive e-mail form you, because not only that is ineffective (because they do not want to hear from you), it is also against the law and will get you banned for spamming and will damage your reputation.
Send only content that your subscribers want to receive
Many e-mail marketers make a mistake by bombing their subscribers with advertisements that sound like this: "We have this great product. Buy it now." Nobody wants to receive spam or ads, so for your marketing campaigns must be smarter than that to be successful. If your e-mails suck, people will unsubscribe and flag your messages as spam.
The general recommendation is to send something of value to your subscribers, something that they have subscribed to and are willing to receive on a regular basis.
Here are some examples:
Interesting articles related to your industry
Free professional advice
A significant discount on your products or services
Latest news on subjects that interest your audience
Access to videos or webinars
A rare occasional message about new collection or interesting product
Create beautiful and professional-looking campaign e-mails
Make your e-mails look cool and professional instead. Avoid sending messages that look ugly, like those sent by blatant spammers whom we all hate.
Here are some tips on how to look cool:
Less is more. Keep it to a few paragraphs of text and no more than a few links.
Unless you use a sophisticated e-mail software with built-in design themes, it is always better to stick to basic formatting. Complex formatting adds extra strain and will most likely look ugly in many email programs.
Do not make your subscriber eyes bleed by excessive use of colors, blinking images, tables or complex layouts. That is unprofessional and spammy. Keep your e-mails clean.
Do not stick the whole article or product details in your message. Instead provide a catchy title, compelling teaser and a link to full or more content. This gives you more freedom on laying out the information and is better both for sharing and for ranking your website higher in search engines due to quality content.
Consider using GetResponse, CampaignMonitor, MailChimp or some other professional e-mail software that offers beautiful e-mail templates.
The cleaner and more professional your e-mails look the more chances they will be read and liked by your subscribers. Here are a few good examples of how nice campaign e-mails should look like.
Make it easy to unsubscribe
Every message that you send should contain a link or instructions for unsubscribing from your list. Not only this is a good and honorable practice, it is also required by law in some countries.
Be compliant with regulations
Provide a legitimate physical address of your company. It can be tiny letters and at the bottom of your message, but it is required by U.S. law. There are some other requirements that you may be interested in.
Consider using modern, professional e-mail marketing tools
One way to send e-mails is to use your regular e-mail software and put your recipients in Bcc field. This may work well for lists of up to 50 subscribers, however if you are serious about e-mail marketing you need to use a professional tool such as GetResponse, CampaignMonitor and MailChimp .
You should choose a professional e-mail marketing software because:
It allows you to send e-mail to thousands of subscribers at once
It provides professional designer-made e-mail templates
It automatically handles unsubscribe and legal requirements
It allows you to see statistics on how many of your e-mails were received and read
It automatically cleans your e-mail lists by removing obsolete and bouncing e-mail addresses
Some of such professional e-mail marketing tools are even free of charge.
Advanced e-mail marketing techniques
Segment your e-mail list
If you work in multiple industries, across multiple regions or send out multiple types of content which is targeted at different audiences, you should segment your e-mail list. This means that you should divide your subscribers and maintain different lists for different audiences, based on their interests, geography or other criteria so that you can send more relevant email to particular recipient group.
Example: Your company is form Germany, you operate both in your local market and also globally through English version of your store. It is a good idea to maintain two separate e-mail lists - one for German-speaking clients, other for international clients.
Analyze the results and adjust
You can make your campaigns more efficient by analyzing statistics, figuring out possible improvements, making adjustments and next time when you run a similar campaign checking if your adjustments made a difference.
By trying out different content, e-mail design, subject line and the time when campaigns are sent out you can eventually find out what brings you the best results.
You can analyze your campaign statistics using tools built into your e-mail software. This usually shows how many e-mails were read and how many people clicked on your links. You can also use Google Analytics to measure how many visitors came to your web page from your campaign emails.
A/B testing
This technique is based on the above idea of testing and adjusting, however it is more precise and much more effective.
A/B testing works like this:
You have 1000 subscribers
Create two different versions of the same campaign e-mail – version A and version B
Send version A to 100 subscribers and version B to 100 different subscribers.
Analyze which version gave you better results (more e-mail reads, more clicks to your website)
You send the better version of the e-mail to the rest of your subscribers.
The result is that most recipients from your list receive the more effective version of your campaign e-mail.